More than just needing something to do this Christmas, we want to make an impact in the lives of the kids and families we serve. But making an impact on a budget can be hard, but it's now possible with The Christmas Jubilee.
For $99, leaders have access to 5 weeks of fully-resourced lessons from The Jesus Family Tree Series, including activities for families at home during the week. Plus, an event (The Christmas Tree Jubilee) with promotional materials to either kick-off or wrap-up the Christmas season.
Our king Jesus came so that we might live, and that is very good news. Christmas is such a great opportunity to share this very good news with the kids in our churches and communities.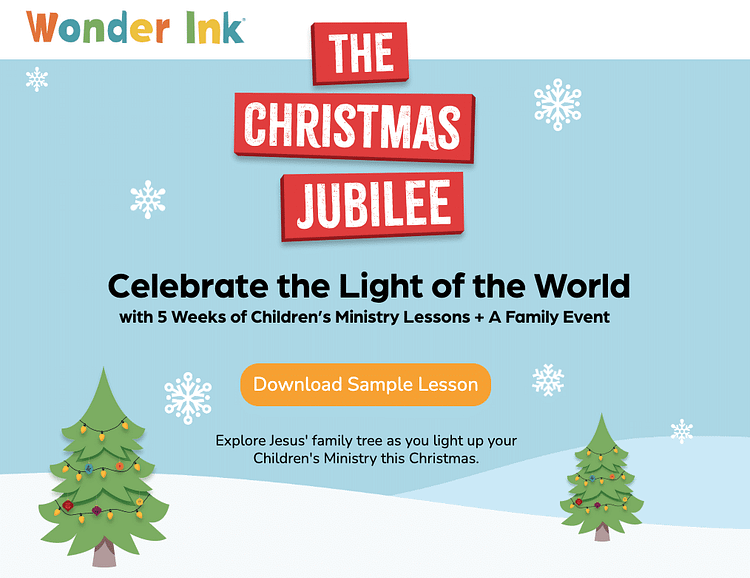 The Christmas Jubilee: What's The Story?
We all know the story of how Jesus came as a baby on a starry night in Bethlehem. How His coming changed everything. In The Jesus Family Tree lessons, toddlers, preschoolers, and elementary kids get to see into His family tree!
Every person has a unique origin story. Jesus is no exception! The Christmas Tree Jubilee Event and The Jesus Family Tree series explore Jesus' family line beginning with God's promise to Abraham and continuing through Jesus' family line being confirmed by a devout man at the temple and a prophetess.
Through it all, God has a unique plan that He carries out for the salvation of all people.
What's Included in The Christmas Jubilee Lesson Materials?
Each Wonder Ink lesson is divided into 4 sections: Curiosity, Belief, Faith, and Identity.
Curiosity
The curiosity lesson step is a multi-sensory object lesson, STEM experiment, or group activity that sparks curiosity, encourages exploration, and gets kids thinking about the wonder of God.
Belief
The belief lesson step is a deep and interactive dive into Scripture that guides kids into knowing God more deeply, exploring His Big Story, and marveling at His wonder.
Faith
The faith lesson step is an intentional conversation that helps kids see the wonder of God's Story and how it connects to their own, emboldening their faith, and fostering a deeper understanding of their place in God's kingdom.
Identity
The identity lesson step is an interactive response activity that ushers kids into worship and creates space for Him to remind them of these core truths: I am known by God, I am loved by Jesus, I am led by the Holy Spirit, and my life can tell of God's wonder.
Additional List of Lesson Resources
Welcome and Introduction
Series Overview
5 lessons (Toddler Time; Early Childhood; Elementary)
Elementary Bible Story Videos
Early Childhood Bible Story Videos
Wonder@Home Bible Story Videos
Volunteer prep resources
Social media images
Series slides
Volunteer communication templates
Family communication templates
Series worship playlists
The Christmas Tree Jubilee Family Event
Not only do you get 5 amazing lessons per age level, but you also get a family event for the holiday season.
The Christmas Tree Jubilee should be utilized any time during the Advent season. It can be paired with the Jesus Family Tree Christmas weekly series or can be used on its own. The event can be used on the first day of Advent to kick off the Jesus Family Tree series. You can also use the event during Christmastime as a stand-alone event.
The Christmas Tree Jubilee event is an event that aligns with the Wonder Ink Jesus Family Tree Christmas series. This is an event where kids and families will go on a journey through the family tree of Jesus, from hundreds of years before Jesus' birth starting with Abraham, David and Jesse, and Ruth in the Old Testament, to Mary and Joseph in the New Testament.
It's packed with Christmas fun, including a large group experience and activity stations where kids and families will be able to create their own ornaments to make a Jesus family tree. They will gather for a celebration of Jesus through worship, activities, snacks, and more!
Additional List of Event Resources
Editable and Downloadable Event Guide
Volunteer roles and descriptions
Supply list
Planning timeline and checklist
Event schedule
Decorating ideas and tips
Promotional materials
Teaching video and live teaching script
Music playlist
Ornament creation stations and activities
Snack ideas
Games
Prizes
Registration forms
A Christmas Celebration You Won't Soon Forget
One of the best parts of the Christmas season is connecting in relationship with our family, friends, and communities. Let us help you in those connections this year! Check out The Christmas Jubilee, available in your Wonder Ink subscription, or sold separately.
And let's celebrate our good and gracious King together!