As a church leader, you know that leading and teaching your church's children is no small task. You must have both the creativity to keep kids engaged and an unwavering devotion to truthful teaching. That's why children's Bible curriculums are so important!
The right teaching resources will make Bible learning exciting without compromising the message of Scripture. With the right curriculum, children will want to read their Bibles and deepen their relationships with God. Let's take a closer look at Bible-based children's curriculum and how you can use it to spark wonder about the Word in the children in your ministry!

How to Identify Bible-Based Children's Curriculum
When you're shopping for curriculum, you'll find that most providers use phrases like "Bible-driven" and "Gospel-centered." But is that enough to know that the curriculum is genuinely Bible-based?
A children's Bible curriculum should have a discipleship plan for a learning experience that equips children to study the Bible as they build their relationship with God. It's pretty self-explanatory: A children's Bible curriculum should be rooted in the Bible!
Curriculums with Scripture at their core are easy to spot—just look for the following qualities: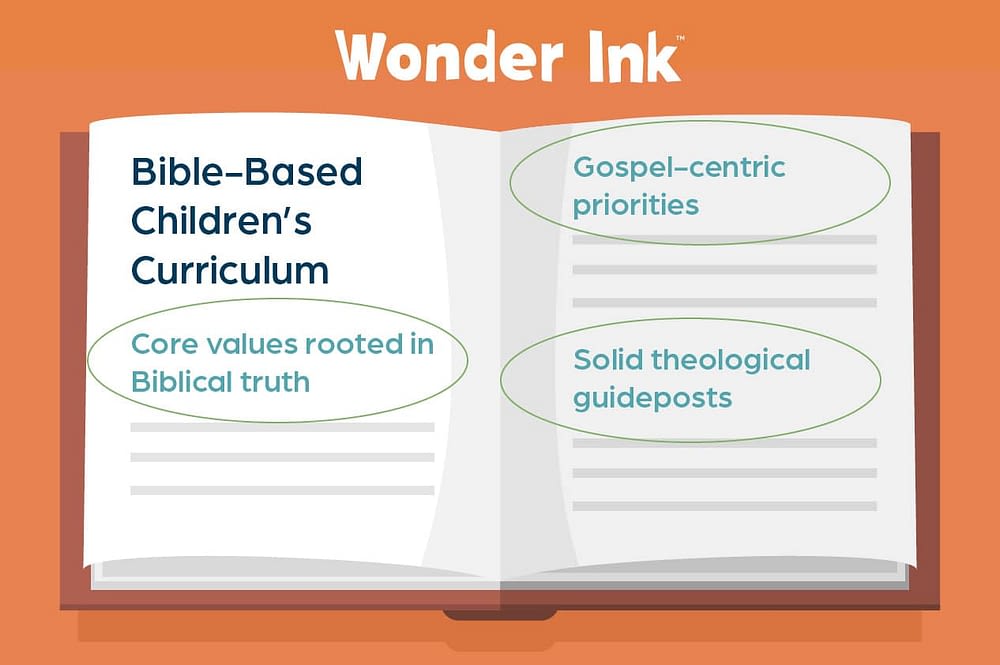 Core values rooted in Biblical truth: Consider the curriculum's scope and sequence. Does it follow biblically sound principles? How do its core values point kids back to the Bible? If your ultimate goal is to point children back to the main source, God and His Word, then that should be your curriculum's goal as well.
Gospel-centric priorities: Many curriculums emphasize their fun and engaging materials. While there's nothing wrong with keeping kids engaged, the "fun" aspect shouldn't take priority over Biblical truth. Look for a curriculum that positions the Bible as God's story and uses games, music, and other supporting materials to reinforce His truth.
Solid theological guideposts: To ensure a curriculum's theology is biblically aligned, you'll need to look at its theological guideposts. At Wonder Ink, our guideposts are rooted in our beliefs about our identity in light of God's Big Story. We teach that the people in the Bible were real people, not characters or heroes. We also believe that no Bible passage should be changed in its interpretation. We introduce and explain biblical language in the context of Scripture. Ultimately, each lesson that we teach points kids back to God's Big Story—after all, it's all about Him!
Ultimately, for children who can read, your children's Bible curriculum should supplement their reading of the Bible, not replace it. And for younger children, we still want to encourage the truth of Scripture and begin sharing the Bible with them in age-appropriate ways.
When you find teaching resources that are fully rooted in Scripture, you can remain confident that your kids will learn to go straight to God and His Word.
The Impact of Children's Bible Curriculum
As you search for the right resources to guide kids' learning, you might be wondering what a biblically-based curriculum would look like in action. At the end of the day, a strong, biblical foundation can hugely impact the effect the curriculum has on your kids because it has the power to:
Increase biblical literacy: Think of your curriculum as training wheels on a bicycle. With the help of your teaching, kids will become more familiar with the Bible as they learn straight from it. For your kids who are already reading, they'll better understand the Bible's authority and become more familiar with the Word as they practice reading it themselves. Your younger kids will learn to rely on the Bible as a source of truth as they learn from it, preparing them to be comfortable reading it for themselves. Eventually, they'll be ready to take the training wheels off completely and take steps to further their relationship with God.
Encourage future learning: Biblical teaching will encourage kids to start turning to the Bible or to continue diving deeper into it. Using the bicycle example, kids will be so excited to have conquered "training wheels" that they'll never want to stop riding their bikes! In the same way, your curriculum can make studying the Bible so clear and fulfilling that the kids at your church will start or continue to read on their own beyond their involvement in your children's program.
Strengthen personal relationships with God: Have you ever heard a sermon that urged Christians to get to know God by spending time with Him? The concept is true: When your kids learn from and spend time in God's Word, they'll learn more about God and cultivate a deeper personal relationship with Him.
While these benefits of a biblically-based curriculum can make a big difference in any kids' learning experiences, you should evaluate your ministry to determine what the kids in your ministry need most. Do they struggle with understanding Scripture? Do they lack the resources to continue learning at home? Look for a curriculum that specifically addresses your kids' and families' needs.
Children's Bible Curriculum From Wonder Ink
At Wonder Ink, everything we do points back to the Bible. Our goal is to inspire kids to discover their identity in God by exploring the big questions and ideas of the entire Bible.
Curriculum Overview
Wonder Ink's curriculum takes kids through the entire Bible in three years. Each year, our lessons are grouped into different series that each explore our four core values: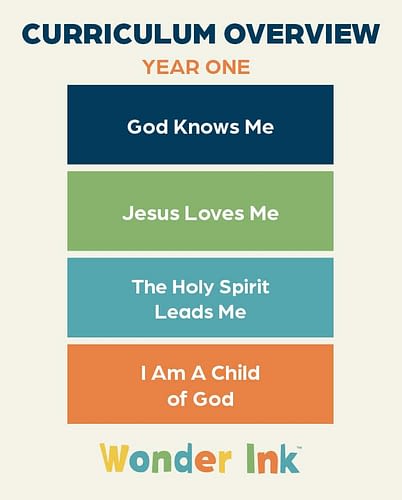 As they walk through the entire Bible, our curriculum connects the dots, helping kids to see how the Gospel defines their identity. Plus, with our Wonder@Home lesson reinforcement activities, families can bring the curriculum home through games, worship music, and more!
What's Included
Our curriculum will set you up for success with features that directly point kids back to the Bible, such as:
Discipleship plans: Our age-appropriate lesson variations help kids dive into the Bible more deeply according to their unique learning levels. Every age group will learn biblical literacy as the curriculum walks through the entire Bible.
Digital customization: Our digital, ready-to-go lessons (available for 30, 60, and 75 minutes) can also be customized to meet your class's unique needs. By editing lessons, you'll have the personalized tools needed to teach children how to pursue their personal relationships with God.
Toolkit for ministry: With connection points available, you can equip your volunteers and walk alongside families throughout the week. Be encouraged and feel supported every step of the way!
But our curriculum doesn't just support the kids! Training kits and in-lesson tips help your volunteers understand the lesson history and be encouraged as they inspire kids to discover their identity in God's story.
Pricing
Wonder Ink's plans are priced by age level. You can also purchase a combined subscription to meet all your kids' needs!
Early Childhood (Ages 3-5)—$597, or 3 installments of $219.00
Elementary (Kindergarten through Grade 5)—$797, or 3 installments of $289.00
Full Curriculum (Both age groups)—$897, or 3 installments of $329.00
Your annual subscription gives you full access to our digital platform and all its tools. No additional license or media fees are required. We even offer a 90-day money-back guarantee if you're not satisfied with our curriculum!
Additional Children's Bible Curriculum Resources
We know that your search for the right curriculum is important. If you want to learn more about children's curriculum and the lessons that will point them back to Scripture, check out these resources: