Back in the day when maps were printed on paper, the route of a summer road trip would be marked with a highlighter or traced with a finger along interstate highways and local roadways from point A to point B.
Every curve, corner, and sign along the way would be confirmed in reference to point B. Getting off course due to a wrong turn could require pulling over to the side of the road for a closer look at the map. You'd have to figure out where on earth you were so you could get reoriented to where you were going.
Satellite navigation systems have changed all that.
It's now easier to map your way anywhere: to a doctor's appointment, a friend's wedding, or a camping trip. Just type in the address, and you never have to look farther than a three-inch blue line straight ahead on your screen.
If you get off-route, the system will reroute you within a few seconds—no need to even think about it. You know where you're supposed to be going, but you don't really need to pay attention to point B until you're there.
The Danger of Relying on Children's Curriculum Alone
As ministry leaders, we've become accustomed to following a program and trusting that we're showing kids the way to Jesus. Great curriculum makes it easy.
But what if our children's ministry curriculum has become the discipleship equivalent of looking no farther than a three-inch blue line straight ahead?
If we have lost focus on the greater journey of faith formation, our desire for the convenience of packaged programs may be partly to blame.
Of course, nobody would advocate inconvenience per se as the remedy. But, somehow, we need a clear picture and constant reminder of point B. To help with the faith formation of our kids, we use songs, lessons, videos, and activities—but they are not point B. A vibrant identity in Jesus is.
The real Jesus. The scandalous, law-breaking, love-abiding Jesus. The counter-cultural Jesus who modeled and taught a way of following God that broke from the conventions of His time and place in the world—and ours.
We know that true faith is more than going to church. It's about more than getting people to stay in church and believe what they were taught, no matter how solid the children's ministry curriculum. It's more than communion and baptism, small groups and Bible studies—even though these are significant and valuable.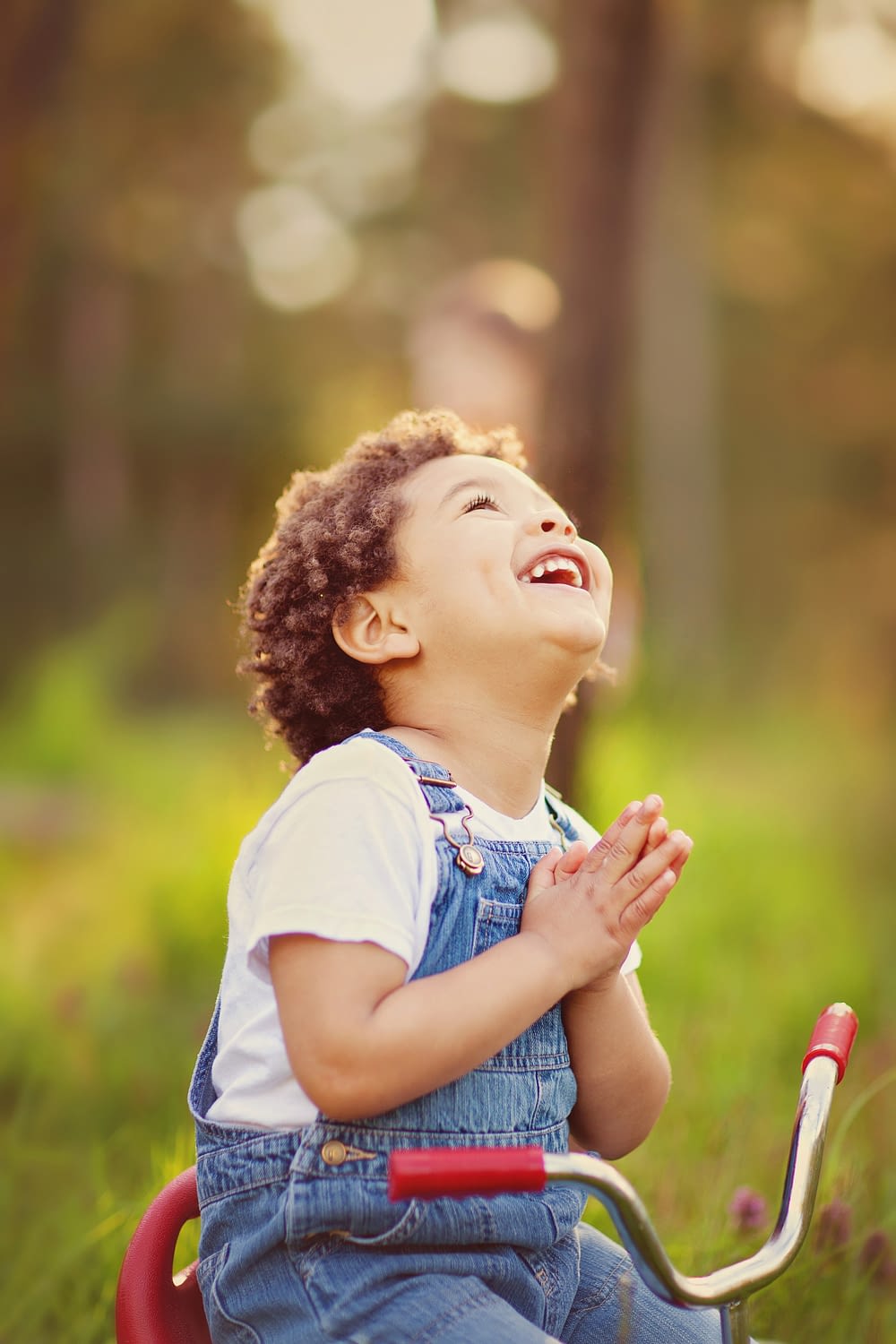 Children's Curriculum Focus: Identity in Jesus Is Point B
"If faith is union with Christ, and means union with the story of Christ, we need to understand the story of Christ to know what faith and faith formation is."

Scot McKnight, New Testament scholar in a review of Andrew Root's Faith Formation in a Secular Age.
Both authors advocate for the power of faith formation that comes through setting aside our privilege and mobilizing ministry to others, following the example of Jesus described in Philippians 2:6–11.
We are formed as we enter the story of Christ, who, being in very nature God, didn't take a position of divine privilege; rather, He humbled Himself as a servant.
Imagine the difference in our faith, and our children's, if the end goal followed this pattern: "Because he was X he did not do Y but instead did Z…. not to do what we can because of who we are but instead to do what is redemptive for the other."
This God-made-flesh Jesus showed us how knowing who we are in Him leads to self-emptying humility and others-centered service. But if good behavior is accepted as the goal of faith formation, we have missed point B. We have accepted good behavior as a stand-in for identity in Jesus rather than an outflow from it.And, no doubt, many a children's ministry curriculum can help us train kids in good behavior.
Lifting Our Eyes
Promoting good behavior for its own sake is an old trick.
When the Pharisees tested Jesus with a question about the greatest commandment in the law they so carefully upheld, He said: "Love the Lord your God with all your heart, with all your soul, and with all your mind. This is the greatest and most important command. The second is like it: Love your neighbor as yourself. All the Law and the Prophets depend on these two commands" (Matt. 22:34–40).
What does this all-encompassing love look like when it comes to the daily practice of forming our children's identity—and in that identity, a lifelong faith—so that being a Christian is first and foremost about who they are, not how they behave?
To find out, we must lift our eyes from the three-inch blue line on the navigation system we may have been trusting too much to get us where we really want to go.
We Value Children's Curriculum
Do we value children's ministry curriculum? Yes, of course! We need curriculum that is theologically solid, engaging for kids and volunteers, and adaptable to our context. But how can we avoid relying on it to the extent that we're missing point B?
That last question has fueled a quest among children's ministry leaders to look for more than curriculum—and beyond the walls of the church—to engage today's families. The question can't be fully answered here, but we have an opportunity to learn new approaches as we go forward together.

Join us as we explore: